Minnesota Report
The DFL Senate Caucus met yesterday and the Carpenter's Union Hall in St Paul to select their new leadership team. The wisely picked a pragmatic, thoughtful and seasoned veteran in Sen Kari Dziedzic (DFL-60, Minneapolis). We understand this was a one ballot contest.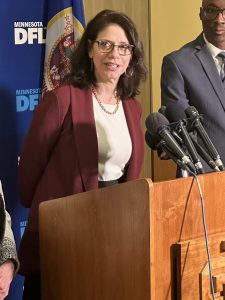 In addition to her selection, they chose fellow Minneapolitan Sen Bobby Jo Champion (DFL-58, Minneapolis) as the Senate President, Sen John Marty (DFL-40, Roseville) as the Finance Committee Chair and Sen Ann Rest (DFL-43, New Hope) as the Tax Chair and President Pro Tem.
It is worth noting our call for Dziedzic as far back as February https://checksandbalances.com/in-the-aftermath-of-lopez-franzen/ and in addition we were the only source to put forward Champion's name for Senate President.
Members of the press raised an issue of the perceived metro centric perspective of the selections. To which Dziedzic pushed back saying all of the positions had not been decided upon, specifically the Deputy Majority Leader, which is still pending and the Assistant Majority Leaders, which have been chosen but a list is not yet available.
On Friday, the DFL Senate Majority elected six Assistant Minority Leaders. Sens. Nick Frentz (DFL-29, North Manato), Mary Kunesh (DFL-42, New Brighton), Foung Hawj (DFL-67-St Paul), Liz Boldon (DFL-25, Rochester), Erin Murphy (DFL-64, St Paul), and Kelly Morrison (DFL-45, Deephaven).
The Senate Republican Caucus also met Thursday and chose Sen Mark Johnson (R-01, East Grand Forks) as the Minority Leader.
The DFL House Caucus also met and selected second-term Rep Jamie Long (DFL-61B, Minneapolis) as Majority Leader.
Later Friday, the House Republicans met and elected Rep Lisa Demuth (R-13A, Cold Spring) as House Minority Leader.