Minnesota Report
Yesterday, Governor Tim Walz (DFL-MN) and Lt Governor Peggy Flanagan (DFL-MN) presented their budget recommendations for public and legislative scrutiny. During the course of the event, the emphasis was clearly on doing dramatic things at an unprecedented time, due to a $17.6 billion surplus.
.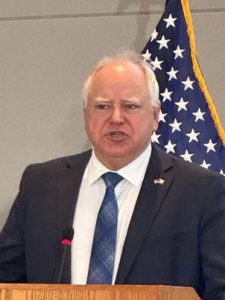 The governor opened up with the concept of a budget not just being a financial document, but also a moral one. The three tenets and the costs being, Making Minnesota the Best state in the Country for Kids (FY 2024-25=$5.178 billion and FY 2026-27=$6.586 billion), Investing in Minnesota's Economic Future (FY 2024-25=$3.176 billion and FY 2026-27=$1.839 billion), and Protecting the Health and Safety of Minnesotans (FY 2024-25=$2.238 billion and FY 2026-27=$1.115 billion) and (FY 2024-25=$6.037 billion and FY 2026-27=$178 million) for Other One Minnesota Priorities.
Each of these in some way, are positive socially as well as economically. The governor highlighted his budget contains the largest tax cut in Minnesota history, and if the items targeted to family support will reduce Child Poverty by as much as 25%.
This opportunity appears to be seen by the DFL administration, as poised at a historic moment and brings to mind the idea, if not us, then who, if not now, when? One of the components are the Walz Checks, which have been paired back and now entail $1,000 for a single filer and $2,000 for a couple with an addition of $200/per child up to three, or maximum of $2,600.
With a focus on in migration, we are reminded, on previous occasions, especially as a former Social Studies teacher, the governor has joked about recruiting teachers from other states, like Florida, where teachers can teach what they want to in their classrooms. They are betting of the idea of creating Minnesota as an attraction not just as a tourist destination but a place to live year-round, will bring together a more robust workforce, build an innovation destination and foster a quality community to raise a family in, are all aspects of what this budget entails.
During the questions and answer portion of the event, we sought a clear understanding of the total obligation of the proposed budget in regards to the existing surplus, with a clear understanding, that $12, billion was one-time money. We asked the governor and Commissioner Jim Schowalter the following.
C&B: The last time we were in this room (Conference Room of the Revenue Department) we learned of the $17.6 billion surplus; can you tell us how much of this does your budget consume? The best answer came from Schowalter who said, "It leaves $1.3 billion as carry forward."
The proposal consists of $65.2 billion up from $52 billion in the current biennium.
Additionally, we asked Schowalter after the event what were the revenue raiser contained in the budget, to which he answered, "There's a small list of revenue generators, Capital Gains." (We will note this is projected at $661 million in FY 2024-25 and $606 million in FY 2026-27) At this point, Budget Director Ahna Minge stepped in and said, "There's the two items that Commissioner Daubenberger, talked about. (Which are license tabs fee increases) Schowalter continued, "There's the PFL which Commissioner Grove talked about and somethings in the DNR and DPS on the fee side."
In its entirety the state is projected to receive an additional of $5.368 billion over the course of FY 2024-
We will also call attention to the potential revenue generated by legalization of cannabis and the early pay-off of the US Bank Stadium, which will amount an additional $30 million of revenue from paper and e-tabs each biennium, along with the potential for revenue from sports book.
By all accounts the economic health of the state is good, and likely even better that that, and we continue to out perform all of the states in our region and most across the United States.
Of course Republicans played their old saw, calling for tax cuts. To view their response, click here.
The reality check is clear, Republicans have no ability to stop, impede or redirect anything the DFL Majority wants to do in either chamber, accept draw things out during floor debates.
The governor will release his Capital Budget proposal on Thursday.