Minnesota and National Report
In spite of not being a candidate for consideration in tomorrow's caucuses in Nevada Michael Bloomberg (D-NY) attended the debate moderated by NBC Nightly News and Dateline NBC anchor Lester Holt, Meet the Press moderator and NBC News political director Chuck Todd, NBC News chief White House correspondent and MSNBC Live host Hallie Jackson, Noticias Telemundo senior correspondent Vanessa Hauc and The Nevada Independent's Jon Ralston on Wednesday evening.
Yesterday, we interviewed Bloomberg's Minnesota State Director Mike Schultz about the state of affairs for their campaign efforts in the home state of one of Blomberg's opponent's on March 3rd, Super Tuesday, US Senator Amy Klobuchar (D-MN). The well-financed nationwide campaign appears to be taking nothing for granted and hence the Minnesota presence.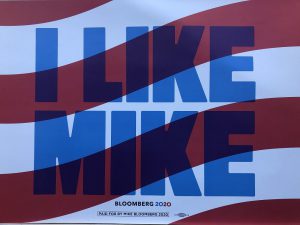 We entered the 1st Avenue campaign location to see a flurry of activity, at the end of training session for 40-or so local organizers.  We inquired into Schultz' political background and learned he grew up in Alexandria, MN and comes to this campaign from the fundraising side of the political system with experience in both statewide and regional state and federal offices. He worked for Klobuchar's Presidential Campaign early in 2019, but left for medical reasons. Afterwards, he expressed, his need to get off the bench to prevent the election of Donald J Trump (R) at all costs.
We opened our conversation asking what the campaign line was following Bloomberg's less than stellar performance and the targeted attacks he experienced from his field of opponents. To which Schultz said, "As the campaign manager (Kevin Sheekey) said, Mike needs to get his sea legs. It was his first debate, as we have seen there were some strong points he was much better in the second half than the first half. We have seen throughout 2019, candidates improve throughout the process and we expect Mike will be no different. "
As to numerical positioning in this state he declined to offer any numbers but did provide this positive reference point, "There's no doubt that, Amy is the dominant political figure in Minnesota, and she has worked and earned her right to that. We are as in so many other places fighting for delegates in Minnesota and will continue to do that."
In an attempt to glean some additional information about other campaigns asked whether Klobuchar will meet or surpass expectations. To that point Schultz offered little, other than to say, "It's very clear that Amy has exceeded expectations throughout this race, and nobody should be surprised if she exceeds expectations moving forward."
We inquired about the activities surrounding the precinct caucuses in light of the presidential primary which is a process more impacted by a well-financed campaign. He said, "The caucus process is really important here in Minnesota. It's a process unique to Minnesota and yes, we are lucky to have a large team of organizers who will be attending various caucus sites in their specific districts." He conveyed, constantly expanding support moving forward until Tuesday caucuses, but did not commit to blanket coverage of the state in all areas.
He also affirmed the statement made by the candidate generally, that the organizers are being paid through November, which means Bloomberg's presence in Minnesota will be constant, this election.
We asked about the based contact information for voters and learned they have access to the VAN (Voter Action Network).
When asked about the state of affairs of the campaign he made an analogy of both, "Building and flying a plane at the same time." When we queried into his role, he said, "Air Traffic Controller."