Minnesota Report
The political reality for Republicans in the state legislature is hard to accept, but when you are in the Minority you are out of power except for voting for a Bonding Bill. The DFL Trifecta as long as it remains intact, is virtually unstoppable. The latest proposal from Senate Republicans signed by Senate Minority Leader Mark Johnson (R-01, East Grand Forks) provides support from the GOP Caucus but comes with strings attached. In this case, projects already agreed to in the last legislative session, when Republicans were in power, $800 million in direct rebates, and a seat at the table for how the rest of the $2.29 Capital Investment money is spent. The only DFL Senate Majority would choose to accept is that they want to have a smaller Cash Bill and obligate less of the one-time money from the $17.5 Billion Surplus.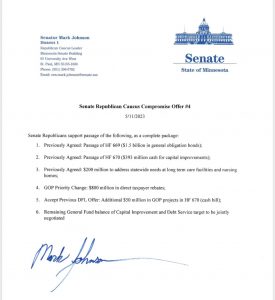 This offer seems to ask for far too much, it is onerous and this is like the federal debate in Washington DC where House Speaker Kevin McCarthy (R-CA12) is tying the lift of the National Debt Ceiling to the current and next budget. We expect Johnson is receiving pressure inside his caucus from members to provide support for local projects, especially for water treatment and clean potable water projects because the communities lack the tax base to support these infrastructure costs on their own.
Now, we know we are not part of the negotiations, but we will point out that any cash expenditures are the best form of returning the surplus money it is far more beneficial than sending people a small rebate check because it is through collective action our infrastructure is maintained and that money is then spent in the various communities across the state. The adage is for every dollar spent in this type of investment travels through a community seven times.
Now, interestingly, it is Republicans who usually would support spending one-time money from a Cash Billion because there is no long-term debt obligation. But the DFL Majority only needs their votes for the additional spending. So, effectively they must vote for something they trying do not want, which is a perfectly constructed compromise.
Yesterday, we spoke with Sen Karin Housley (R-33, Stillwater) and she expressed several sentiments. One is the significant influence Governor Tim Walz (DFL-MN) and specifically, House Speaker Melissa Hortman (DFL-34, Brooklyn Park) seems to have over DFL Senate Majority. Two, there must be a tax cut or rebate before her caucus will budge. Three she is unsure whether the House vote negotiated by Capital Investment Lead Dean Urdahl (R-16A, Grove City) will remain intact without some form of rebate, especially since the Social Security tax cut is not universal.
We pointed out to her, that former Senate Capital Investment Chair David Senjem (R-Rochester) said last session he supported a Cash Bill and said it is a very good way to give the money back. She said, she talks to him regularly and he said not to support a Bonding Bill without gaining something significant.
Since the House and Senate Capital Investment Committees are meeting at the time of our writing, and going through the spreadsheet $1.298 billion General Fund spreadsheet the starting point for negotiations is finally partially public, and specific projects for each side are being identified.
CapInvestment Spreadsheet 5-12-23
Let the fun begin.