Minnesota Report
We attended a press conference hosted by Jobs for Minnesotans and witnessed a coalition of the Chamber of Commerce, Organized Labor and legislative Leadership on both sides of the aisle and in both legislative bodies. The group came together to support PolyMet in its appeal of the MN Court of Appeals Decision on three permits that would facilitate the opening of a copper-nickle mine in Hoyt Lakes.
In attendance wore Minnesota Chamber President Doug Loon, Minnesota Building and Trades President Harry Melander, Senate Majority Leader Paul Gazelka (R-09, Nisswa), who pointed out he was born in Virginia, House Majority Leader Ryan Winkler (DFL-46A, Golden Valley) who also said he represents Golden Valley, but was born in Bemidji, Senators Justin Eichorn (R-Grand Rapids), Tom Bakk (DFL-03, Cook) David Tomassoni (DFL-06, Chisholm) and Reps Julie Sandstede (DFL-06A, Hibbing), Dave Lislegard (DFL-06B, Aurora) and Dale Leuck (R-10B, Aitkin) also attended.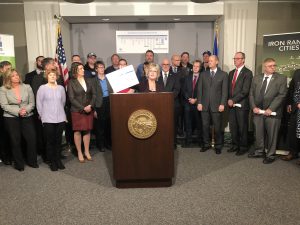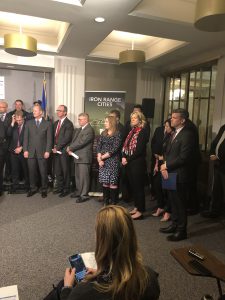 When Steelworker President John Arbogast spoke he said his labor union will make sure they negotiate environmental protections in the union contract with PolyMet.
If the State Supreme Court agrees to hear the appeal, things will get interesting.