National and Minnesota Report
On August 13, 1973, Governor Wendell Anderson (DFL-MN) graced the cover of Time Magazine hoisting a Northern Pike and the Headline read the "Good Life in Minnesota".  He helped draw attention to positive steps taking place in our state. Today, the cover sports a collage of different tone, Secretary of States' and candidates who are the frontline for democracy and ensuring election integrity across the nation, our own Secretary of State Steven Simon (DFL-MN) is shown in a familiar pose carrying a legal pad and seemingly, to be asking a question.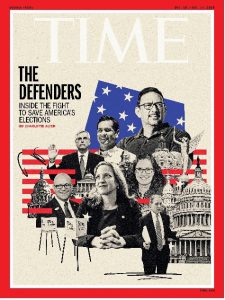 In the article Conspiracy Theorists Want to Run America's Elections. These Are the Candidates Standing in Their Way
These Defenders of Democracy stand ever-vigilant to protect the integrity of our election system and their principal foe, is former President Donald J Trump (R), who even prior to his first election, challenged the electoral system as a preemptive strike, in case he lost.