Minnesota Report
Last night, the Republican Party of Minnesota held, in-person caucuses, again, this is the GOP response across the board, as we discussed yesterday in the MN State Senate Office Building in our article Two Different Worlds in the State Senate Office Building.
The poll shows former state senator Dr Scott Jensen (R-MN) with a 38% lead followed by Sen Paul Gazelka (R-09, Nisswa) at 14% and Neil Shaw with 12%. Former Hennepin County Sheriff Rich Stanek (R-MN) is not listed.
One important factor, is the Straw Poll participants, being Caucus Attendees, are the most important poll at this time, because they are the poll from which state delegates will be selected. These people will go to the BPOU's (Basic Party Organizational Unit) conventions and then on to the state convention.
The results of last night's Straw Poll are: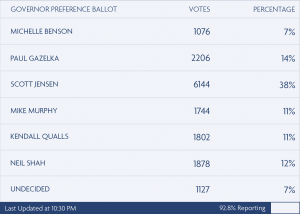 Obtained from the mngop.com website.