Minnesota Report
Today, is the last day of the called 3-day nurse's strike, 15,000 nurses strong. We are still awaiting information of the two sides returning to the bargaining table. We were on-hand on the first day at St Paul Gillette's Children's Hospital and attended the press conference.
One interesting aspect of the information shared was the large number of nurse Unsafe Staffing Reports. In 2021's full-year report for this facility, over 3,500 were filed with the MN Nurses Union. These reports also maybe filed with the hospital, but little response has resulted and actually, there are negative repercussions when such are filed.
The importance of the nurses seems to be constantly overlooked and the dramatic number of people leaving the profession is a testament to the significance of the problem. Nurses are the essential element and they are being ignored, put in threatening situations and expected to work long hours, with minimal breaks, resulting in high levels of fatigue.
The pandemic highlights a fissure in the nursing community, due the high-priced wages paid to Traveling Nurses. We know of as much as $300.00/hour for a temporary traveling nurse, which hospitals across the nation are willing to pay, but are not willing here in Minnesota tot adequately compensate nurses who are experienced and vital to the local facilities.
Additionally, reports inside the facilities are the amount of staffing had increased significantly, showing the hospital administrators are ensuring the hospital are adequately staffed when the world is watching, but not willing tot do so on a regular basis.
Here are the hospitals across the state effected by the strike.
Allina Health, Twin Cities area
Abbott Northwestern
Mercy
United
Unity
M Health Fairview system, Twin Cities area
Riverside
Southdale
St. Joseph's
St. John's
Children's Minnesota
Children's Minneapolis
Children's St. Paul
HealthPartners, Twin Cities area
Duluth
Essentia
Mary's Medical Center
Since we expected this 72-hour strike would occur, and depending on the response from the Hospital Executives, will determine if another one occurs. We believe public sentiments have the potential for additional impact.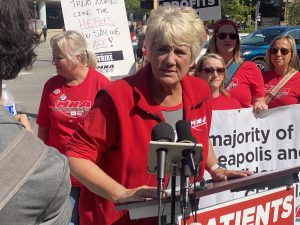 MNA President Mary Turner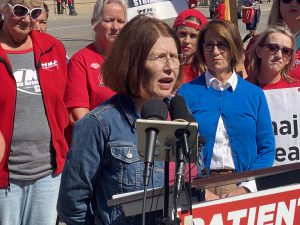 State Representative Tina Liebling (DFL-26A, Rochester)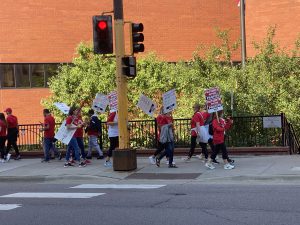 Strike Line