Minnesota Report
The legislation named Keeping Nurses at the Bedside Act of 2023 HF1700/SF1561 is now a stand-alone bill and will be negotiated separately from any omnibus bill. In a press conference prior to the conference committee set to meet to reconcile the two bills, the chief authors' Sen Erin Murphy (DFL-64, St Paul) and Rep Sandra Feist (DFL-39B, New Brighton) spoke with reporters and supporters outside of the committee room.
Of course, the first spate of questions focused on the Mayo Clinic, which was completely carved out of the bill, but Murphy—an Registered Nurse and former Executive Director for the Minnesota Nurses Union—was to point out 90% of the state's hospitals would still be covered by this legislation. This means other aspects of the bill will not be available to Mayo Nurses and staff such as, "eligibility for nursing facility employee scholarships modified, hospital nursing education loan forgiveness program established, eligibility for health professional education loan forgiveness program modified."
The reason for Mayo's ability to leverage its way out of the legislation is due to agreement from Governor Tim Walz' (DFL-MN). Throughout the week, there has been a bevy of nurses camped out in from of the governor's office.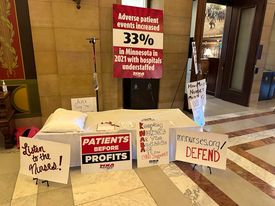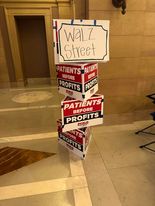 Additionally, Murphy also pointed out there is a state standard of care, which is required by all licensed hospitals in Minnesota, which will provide certain protections for patients.
The bill includes provisions that will strengthen the role nurses and other support staff will have regarding staffing and workload decisions. Two significant committees are proposed "a hospital nurse staffing committee" and a hospital nurse workload committee" which will consist of 50% hospital executives, 35% nurses, and 15% support staff. We are unclear if the actual weight of participation is based on a percentage for each group or specifically on the number of individuals. In smaller hospitals, this could become a concern due to a smaller number of employees.
A newly added member of the conference committee Sen Jim Abeler (R-39, Anoka) stated his level of priorities were first patient care, staff, and then administration.
No matter what emerges, we understand there will be a 6-month period for transition to this new approach to patient care in Minnesota hospitals.