Minnesota Report
On Saturday, during a district wide door knock and canvas DFL activists, allies, friends and supporters met at the Martin Luther King Center to cover the district like a blanket. Many notable politicos we in attendance for the effort organized around House Ways and Means Chair Rena Moran's (DFL-65A, St Paul) bid for Ramsey County Commissioner, which is a contested Primary, Lt Governor Peggy Flanagan (DFL-MN), US Senator Tina Smith (D-MN), Congresswoman Betty McCollum (D-MN04) who has her own Primary challenge, Attorney General Keith Ellison (D-MN), State Auditor Julie Blaha (D-MN), State Senator Sandy Pappas (DFL-65, St Paul) who also has her own Primary challenge, Samakab Hussein, candidate for 65A, Maria Isa Perez Hedges, DFL endorsed candidate for 65B, DFL Senate Caucus Campaign Chair Erin Murphy (DFL-64, St Paul) and Ramsey County Commissioner Board Chair Trisha Matascastillo (DFL).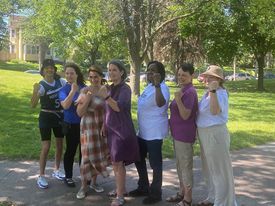 On Juneteenth, Smith and McCollum returned for the first celebration of the national holiday and attended Rondo Day, to commemorate the event, where they were joined by Governor Tim Walz (DFL-MN).
The heightened emphasis on a district like 65, shows the focus on the base vote and its concentration of population is key to statewide victories. The urban district may provide the base vote, but it is in the suburbs where the majorities in the legislature are won and lost. We were interested to hear candidates like Perez Hedges, actively discussing the diversity across the state and the pockets of communities of color, who can have significant impact on local races, in Rochester, Mankato, Willmar and Worthington.
It is regional centers like these that the DFL can maintain toeholds in Greater Minnesota. Especially, as a challenge against the influence of Donald J Trump.