Minnesota Report
Yesterday, at the St Paul Regional Water Services facility in Roseville, backed with strong and visible support from our state's labor unions, Governor Tim Walz (DFL-MN) presented his $3,274,319 billion Capital Budget, which includes, funding for the University of Minnesota and the State University and College systems, capital investment projects, Trunk Highway Bonds, state Asset Preservation and housing and homelessness facility funds, to name a few.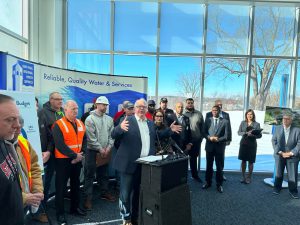 In the proposal, there are a few items deemed as paid for through cash payments, but the largest resource is General Obligation Bonds, to the tune of $1.890.898. Which if only this portion were to pass, it would be the state's largest historic Bonding Bill. During the Question & Answer period, the governor was asked if he was prepared to support the passage of the bill, if it were to be mostly a cash option, which we strongly advocate, and he conveyed his believe, that many of these projects did not carry a partisan stripe because both Republican and DFLers all drink clean water and drive on our state roads, which consist of the fourth most mileage in the nation.
To view the entire proposal click here.
The negotiations and politics of Capital Investment are always interesting, the Republican House position, we have heard is $2.5 billion, but local projects are known to garner more greater support and this piece meal process is where the artistry occurs.
One thing is clear, the DFL Trifecta has the benefit of not needing any Republican votes to pass anything they want as long as they can get the Senate DFL members to agree universally. We expect this reality will also free up more Republican support just due to pragmatics.
As we have said before, and will reiterate again, no politician has ever won or lost an election of support or opposition to a Bonding Bill.