Minnesota Report
Last night, at the Carpenter's Union Hall, at the same time as President Joe Biden's (D) State of the Union Address a bipartisan gathering of people came to commemorate and support Sen David Tomassoni (I-06, Chisholm) and contribute to the MN ALS community. In attendance were Congressman Pete Stauber (R-MN08) who actually released a statement about the speech, when it is clear he didn't even watch it, Governor Tim Walz (DFL-MN), State Auditor Julie Blaha (DFL-MN) House Speaker Melissa Hortman (DFL-36B, Brooklyn Park) Senate Majority Leader Jeremy Miller (R-28, Winona), House Minority Leader Kurt Daudt (R-31A, Crown) Senate Minority Leader Melisa Lopez Franzen (DFL-49, Edina), former Governor Mark Dayton (DFL-MN), outgoing Transportation Commissioner and former House Speaker Margaret Anderson Kelliher (DFL-MN) just to name a few notables and many current legislators and staff in addition to former legislators and staff.
The event was a pressure release value for the political world after a protracted fight with the COVID pandemic. The hall was full and clearly exceeded the attendance estimation of 500, made by Sen Tom Bakk (I-03, Cook) earlier in the day.
Prior to the evening's festivities, a press conference was held and legislation supporting research and home healthcare for families who face this daunting disease was proposed and by all indications will make a speedy dash to passage in both houses.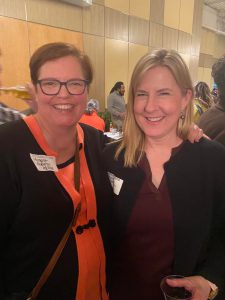 Two Speakers Margaret Anderson Kelliher (DFL) (Speaker MAK)
and current House Speaker Melissa Hortman (DFL) (Peacemaker Hortman)