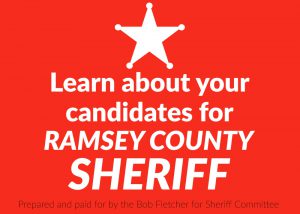 If someone wants to see the divides in our state it is clearly evident from the State House Legislative District maps from 2016. When you view it, you will see a saturation of the DFL members in the metropolitan area and a spattering of DFL legislators in the Duluth and the Arrowhead region, along with the regional centers of Rochester, Morehead, Mankato, Winona, and Austin.
After the 2016 election, Republicans held a 77-vote majority while the DFL held only 57 seats. Already, the DFL has regained a hotly disputed seat in another regional center, due to the suspension of the campaign by Rep Jim Knoblach (14A, St Cloud) because of sexual abuse allegations by his daughter. In order for the DFL to gain the majority, they would need to run the table in the metro and gain additional seats elsewhere. In light of the #MeToo movement and because of the influence from Donald J Trump (R) this election women candidates, especially on the DFL should gain 5-6 points. We anticipate any election result from 2016 that is within 5% points to be in play, especially where an incumbent is a man and the challenger a woman.
The high concentration of DFLers in districts within the 494/694 ring accounts for 40 out the 41 seats either completely or with a majority of the district within the boundary. Rep Dario Anselmo (R-49A, Edina) is the sole exception.
We believe the bordering districts that lie just outside the 494/694 ring are the districts that will determine who holds the House Majority in 2019. We believe the races in these buffer districts are the ones to watch.
We will list the competitors this election and show the results from 2016. If the seat is open then the 2016 results will have no bearing.
| | | | | | | |
| --- | --- | --- | --- | --- | --- | --- |
| District | Candidates | | | 2016 results | | |
| 33B | Cindy Pugh | Republican | (Incumbent) | Cindy Pugh | 14836 | 60.34% |
| | Kelly Morrison | Democratic-Farmer-Labor | | Brad Brothen | 9715 | 39.51% |
| | | | | | | |
| 34B | Dennis Smith | Republican | (Incumbent) | Dennis Smith | 13773 | 55.83% |
| | Kristin Bahner | Democratic-Farmer-Labor | | Kristin Bahner | 10841 | 43.95% |
| | | | | | | |
| 36A | Bill Maresh | Republican | (Open) | | | |
| | Zack Stephenson | Democratic-Farmer-Labor | | | | |
| | | | | | | |
| 37B | Nolan West | Republican | (Incumbent) |  Nolan West | 11473 | 50.26% |
| | Amir Joseph Malik | Democratic-Farmer-Labor | |  Susan Witt | 11305 | 49.52% |
| | | | | | | |
| 38B | Patti Anderson | Republican | (Open) | | | |
| | Ami Wazlawik | Democratic-Farmer-Labor | | | | |
| | | | | | | |
| 39B | Kathy Lohmer | Republican | (Incumbent) |  Kathy Lohmer | 13793 | 59.02% |
| | Shelly Christensen | Democratic-Farmer-Labor | |  Alan Kantrud | 9564 | 40.92% |
| | | | | | | |
| 42A | Randy Jessup | Republican | (Incumbent) |  Randy Jessup | 11662 | 50.18% |
| | Kelly Moller | Democratic-Farmer-Labor | |  Barb Yarusso | 11537 | 49.64% |
| | | | | | | |
| 48B | Jenifer W. Loon | Republican | (Incumbent) |  Jenifer W. Loon | 13559 | 62.25% |
| | Carlie Kotyza-Witthuhn | Democratic-Farmer-Labor | |  Ben Sherlock | 8183 | 37.57% |
| | | | | | | |
| 49A | Dario Anselmo | Republican | (Incumbent) |  Dario Anselmo | 13075 | 51.04% |
| | Heather Edelson | Democratic-Farmer-Labor | |  Ron Erhardt | 12499 | 48.79% |
| | | | | | | |
| 52A | Regina Barr | Republican | (Incumbent) |  Regina Barr | 11001 | 50.17% |
| | Ruth Richardson | Democratic-Farmer-Labor | |  Mary T'Kach | 10880 | 49.62% |
| | | | | | | |
| 53B | Kelly Fenton | Republican | |  Kelly Fenton | 13740 | 56.35% |
| | Steve Sandell | Democratic-Farmer-Labor | |  Alberder Gillespie | 10620 | 43.56% |
| | | | | | | |
| 54A | Keith Franke | Republican | (Incumbent) |  Keith Franke | 10483 | 51.43% |
| | Anne Claflin | Democratic-Farmer-Labor | |  Jen Peterson | 9877 | 48.46% |