Minnesota Report
Yesterday's, press conference by the Republican Senate majority discussed much of what they had done in the past legislative session and more what they would like to do during the 2020 session. The issues and initiatives advanced by Senate Majority Leader Paul Gazelka (R-09, Nisswa) were targeted right toward the Republican rural, conservative fiscal and social base.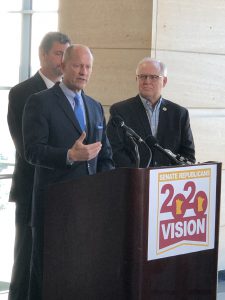 He began his presentation highlighting the $650 million in tax reductions for the state's middle class, passed in the last budget and called for a complete exemption for all Social Security payments from state income tax. He also discussed state conformity from $20,000 annually to the federal amount of $200,000 for depreciation of Agricultural land found in Section 179. He then turned to affordable healthcare premiums, noting Minnesota has the lowest in the country and called for pharmaceutical transparency. He then shifted to a discussion about the problems in the Department of Human Services and drew a direct connection to MNLARS.
In education, he called for closure in the Achievement Gap and "Real" School Choice and private vouchers, while also opposing the push for a Constitutional Amendment for education outcomes because it would create a liability for the state. Later, while noting concerns in Greater Minnesota about using public transit in the Twin Cities he emphasized increases in gang violence and public safety concerns and advanced an idea of considering a tie between this and LGA funding while also placing it first before Criminal Justice Reform. Finally, he addressed a bonding bill that reflects more recent ones of $825 and $988 million compared to the $2.5 billion being discussed by Governor Tim Walz (DFL-MN).
This showed his solid grasp of the wide range of topics his caucus is seeking to address in the bonding bill for the 2020 legislative session. Additionally, regarding the budget surplus he supports giving it back to taxpayers in some form of tax relief and there was a point made about his proposal for a license tab fee holiday.
One of the last questions asked was in regards to PolyMet and the decision by the lower court to deny two permits and he pointed out during the Polar Vortex last winter on 10% of the energy produced came from renewable sources and referred to radical environmentalists preventing jobs from Northeastern Minnesota.
Nearly, all of these issues are well spelled out on the Republican Caucus website.
It is always a good idea to know what the other side is interested in prior to the different sides being in the heat of the battle.
If you want to be memorable in Minnesota State Capitol politics it is good if you are referred to as something other than your name. It is often helpful when a term or a phrase can be applied to your, group, issue or initiative. If you want to be known as something...
There were a number of firsts that occurred in the 1998 Governor's race besides the My Three Sons Primary and the election of third-party candidate Jesse Ventura, In 1997, the Ted Mondale for Governor campaign took out, what is known as the First Paid Political...
The NPR show 1A ran a program on Ranked Choice Voting today, and Checks & Balances Publisher Shawn Towle sought a spot on the panel. When called back by producer Andi McDaniel he was informed the panel was full but could submit a comment through the voicemail...
In politics, the old adage is "Follow the Money." If you are concerned about the effects of the Citizen's United decision and the Koch Brothers influences on politics, then this story merits attention.  Originally, we thought the John and Laura Arnold Foundation was...
Last year, we published a controversial and disturbing piece on House Ways & Means Chairman, Jim Knoblach (R-14B, St Cloud) regarding claims made by his daughter on her Facebook...
Originally posted April 20, 2001 When the Vice-President of the United States calls someone who may believe is the person actually in charge, you stop and take notice.  So seems to have been with the state House Majority Leader Tim Pawlenty (R – 38B,...
Originally published April 04, 2000 Original Title: Another Change in Parties? KSTP talk radio host Jason Lewis openly speculated on his program about the possibility of other members of the legislature leaving the Republican Party for greener pastures with the DFL....
If the St Paul Charter Commission votes to place Ranked Voting on the ballot in November, St Paul is poised to be a significant battlefront in the protection of public pension programs. With Republicans in control of both houses of the legislature, we are prepared for...
Some disturbing information has come to our attention, alleging Rep. Jim Knoblach (R-14B, St Cloud) engaged in an abusive relationship with his daughter Laura, which if true are damning. We have received screenshots from her personal Facebook page, which has since...
Minnesota Report Many people who support US Sen Amy Klobuchar's (D-MN) Presidential bid have been waiting for her to do or say something different than she has been prior.  While sitting at either a single or double-digit in nearly all polling, she hasn't seemed to...
read more
Minnesota Report Rep Ilhan Omar (DFL-MN05) has shown little attachment to Minnesota at any time since her election to state office. As a state legislator, she made a number of trips nationally to promote her election as the first Somali state legislator. Her election...
read more
Minnesota Report Yesterday, former Representative and unsuccessful Gubernatorial candidate Erin Murphy (DFL-64, St Paul) announced her intention to challenge 30-year incumbent Dick Cohen ((DFL-64, St Paul). This is after Murphy had announced her formation of a new...
read more
Minnesota Report Since Ward 6 is the only open seat in the St Paul municipal elections we thought it would be significant to sit down with the various candidates we feel who actually have a chance at winning the seat. As anyone who reads Checks & Balances knows we...
read more
National Report The impeachment proceeding of Donald J Trump (R) may have seemed destined from the start of his administration because he entered into office with no prior governmental experience and appeared to show disdain and disregard to formal convention and past...
read more