Minnesota Report
It might sound redundant, but it's not. Prior to the start of each legislative session, the Forum News Service hosted a forum of the governor and legislative leadership. In this instance, Dana Ferguson of the Frum News Service moderated and it included the participants were Governor Tim Walz (DFL-MN), Speaker of the House Melissa Hortman, (DFL-53B, Brooklyn Park), Senate Majority Leader Paul Gazelka (R-09, Nisswa), newly elected Senate Minority Leader Susan Kent (DFL-53, Woodbury) and Assistant House Minority Leader Anne Neu (R-32B, North Branch). The Governor brought bars but confessed his wife made them.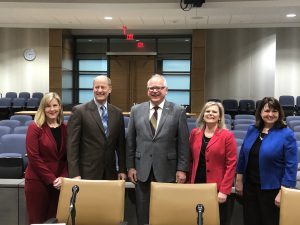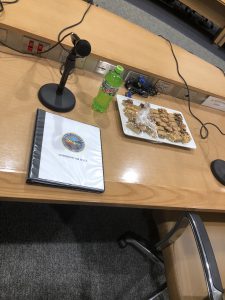 The five fielded questions from the various members of the press corps covering a wide range from the effects on negotiations in the Senate between the Majority Leader and the new Minority Leader to the Bonding Bill. We learned both legislative bodies will be attending a seminar put on by the National Council of State Legislators on how to constructively negotiate and the fact that the surplus of $1.3 billion will likely replenish the $493 million in the Rainy-Day Fund first.
The topic of the Presidential Primary came up and former Supreme Court Justice Paul Anderson came into the room at just about that time. At the end of the forum, he approached the Speaker and said he feels disenfranchised because of party notification and she reiterated her point that the Primary was a party function.
To see the event in its entirety go here Forum Forum.
If you want to be memorable in Minnesota State Capitol politics it is good if you are referred to as something other than your name. It is often helpful when a term or a phrase can be applied to your, group, issue or initiative. If you want to be known as something...
There were a number of firsts that occurred in the 1998 Governor's race besides the My Three Sons Primary and the election of third-party candidate Jesse Ventura, In 1997, the Ted Mondale for Governor campaign took out, what is known as the First Paid Political...
The NPR show 1A ran a program on Ranked Choice Voting today, and Checks & Balances Publisher Shawn Towle sought a spot on the panel. When called back by producer Andi McDaniel he was informed the panel was full but could submit a comment through the voicemail...
In politics, the old adage is "Follow the Money." If you are concerned about the effects of the Citizen's United decision and the Koch Brothers influences on politics, then this story merits attention.  Originally, we thought the John and Laura Arnold Foundation was...
Last year, we published a controversial and disturbing piece on House Ways & Means Chairman, Jim Knoblach (R-14B, St Cloud) regarding claims made by his daughter on her Facebook...
Originally posted April 20, 2001 When the Vice-President of the United States calls someone who may believe is the person actually in charge, you stop and take notice.  So seems to have been with the state House Majority Leader Tim Pawlenty (R – 38B,...
Originally published April 04, 2000 Original Title: Another Change in Parties? KSTP talk radio host Jason Lewis openly speculated on his program about the possibility of other members of the legislature leaving the Republican Party for greener pastures with the DFL....
If the St Paul Charter Commission votes to place Ranked Voting on the ballot in November, St Paul is poised to be a significant battlefront in the protection of public pension programs. With Republicans in control of both houses of the legislature, we are prepared for...
Some disturbing information has come to our attention, alleging Rep. Jim Knoblach (R-14B, St Cloud) engaged in an abusive relationship with his daughter Laura, which if true are damning. We have received screenshots from her personal Facebook page, which has since...
National Report The Iowa Caucuses are scheduled for February 3, 2020, and with less than 100 days to go much is underway. If anyone wants to take a trip to Iowa and watch any of the political event first hand they should contact the Amy for America campaign the...
read more
Minnesota Report Many people who support US Sen Amy Klobuchar's (D-MN) Presidential bid have been waiting for her to do or say something different than she has been prior.  While sitting at either a single or double-digit in nearly all polling, she hasn't seemed to...
read more
Minnesota Report Rep Ilhan Omar (DFL-MN05) has shown little attachment to Minnesota at any time since her election to state office. As a state legislator, she made a number of trips nationally to promote her election as the first Somali state legislator. Her election...
read more
Minnesota Report Yesterday, former Representative and unsuccessful Gubernatorial candidate Erin Murphy (DFL-64, St Paul) announced her intention to challenge 30-year incumbent Dick Cohen ((DFL-64, St Paul). This is after Murphy had announced her formation of a new...
read more
Minnesota Report Since Ward 6 is the only open seat in the St Paul municipal elections we thought it would be significant to sit down with the various candidates we feel who actually have a chance at winning the seat. As anyone who reads Checks & Balances knows we...
read more